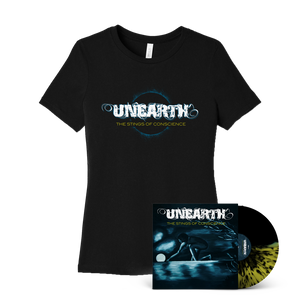 20 year anniversary pressing of Unearth's debut full length Originally released on Eulogy Recordings in 2001. Produced by Adam D. (Killswitch Engage) and Remastered in 2021 by Will Putney at Graphic Nature Audio. Guitar World called the album "groundbreaking," writing that these "forefathers of metalcore" combined "melodic licks with aggressive riffing in a manner both striking and original."

300 - Half & Half Black / Canary Yellow (Unearth Exclusive)
Tracklist:

My Heart Bleeds No Longer
One Step Away
Fuel the Fire
Only the People
Stings of Conscience
My Desire
Vanishment
Shattered By the Sun
Monition
Stronghold
In stock and ready to ship!
Items typically ship in 5-7 business days.
You will receive tracking information as soon as your order is shipped. 
For any questions about your order, please contact us here!
For a size guide on how this will fit click here.